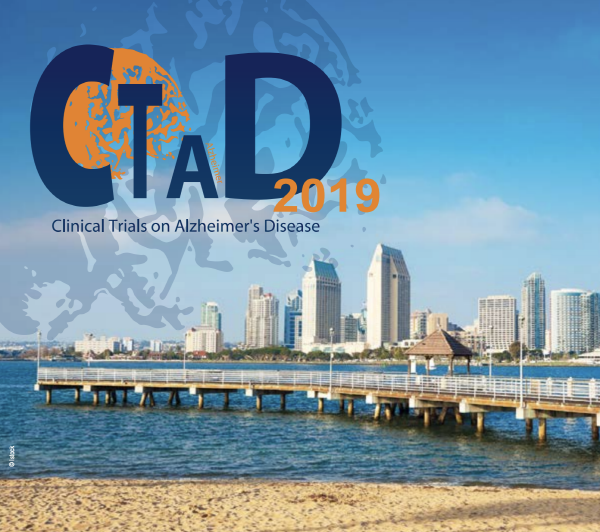 지난 2019.12. 04~06 미국 샌디에고에서 Clinical Trials on Alzheimer's Disease (CTAD)학회에 강승완 대표님, 연구팀의 이한나 선임연구원, 김선명 연구원이 참석하였습니다.
CTAD는 알츠하이머병 치료에 있어 가장 활발하게 운영되고 있는 학회 중의 하나입니다.
이번 학회에서 iMediSync Inc는 동탄성심병원 강석윤 교수와 연세대학교 백경원 교수와 함께
"Significant Change of EEG Biomarker in Parkinson's Disease with MCI after 1tear of Donepezil Intake" 포스터 발표를 진행하였습니다.
이 기간 동안, 세계적인 리더들과 함께 새로운 결과 후보 치료법, 그리고 차세대 알츠하이머병 치료제 개발에 중요한 방법론 등을 논의하는 자리를 가졌습니다.
특히, 이 논문은 최근에 치매약물임상시험이 지속적으로 실패함에 따라, 치매 약물에 대한 효과를 측정하기 위한 바이오마커 개발에 대한 관심을 피부로 확인할 수 있는 자리였습니다.
특별히, 중앙대학교병원 신경과 윤영철 교수님, 분당서울대병원 김상윤 교수님도 학회에 함께 참석하셔서 더 뜻 깊은 자리였습니다.